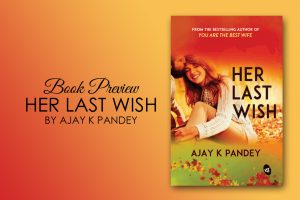 | | |
| --- | --- |
| Publisher | Srishti Publishers & Distributors (30 December 2016) |
| Language | English |
| Pages | 208 |
| ISBN-13 | 978-9382665878 |
Blurb: 
His father's over expectations only ruined his self-confidence further with each failure. A ray of hope walked into his life as his wife, a charismatic personality spreading joy wherever she went. Everything is going per plan, but darkness comes knocking soon. He finds out that she does not have much time to live and takes it upon himself to fight all odds – even his family, if need be – to help her fight her medical condition. His father sees his own redemption in helping them, he knows his son will be a winner only if he will fight for her, with her. Will a defeated son prove himself to be a good husband? Will the father-son duo together be able to change the course of fate? Her Last Wish is an inspiring story of love, relationships and sacrifice, which proves once again how a good wife makes the best husband.
About the Author: 
Ajay K Pandey is currently working with Cognizant, Pune. Although he grew up with a dream of becoming a teacher, destiny landed him in the IT field. Travelling, trekking and reading novels are his hobbies. Travelling to different places has taught him about different cultures and people and makes him wonder how despite all the differences, there is a bond that unites them. Trekking always inspires him to deal with challenges like a sport.
Reading is perhaps what makes him feel alive. Apart from writing, he wants to follow his role model Mother Teresa and make some contribution to the society.
His debut novel You Are The Best Wife was based on his life events and went on to become a bestseller soon after its release. It charmed many hearts and inspired several others to live every moment with love, peace and happiness.
Buy from Amazon India: