Anangsha Alammyan is the author of Stolen Reflections.
Here is how she answered our questions.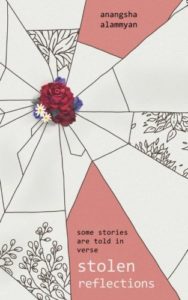 1.How does an idea come for a story come to you?
Story ideas come to me at the most random of times – while traveling on the subway, or while eating alone at a restaurant. I observe the people around me and try to imagine their motivation, the story behind why they are doing what they do. And then if they fit into the story I am currently working on – bam, you have the next character!
2.At what age did you start writing?
It must have been when I was eleven. Back in school when we were set those "Write a story beginning with….<insert random sentence>" exercises as assignments. I used to let my imagination run loose and dream up seemingly impossible scenarios and weave them into stories. I started publishing my work much later when I was 20 and in my third year of engineering. There's this website Quora.com, where I used to write so dedicatedly that I ended up becoming Top Writer 2016.
3.Is this your first book?
Yes! I am so excited about its release.
4.What is the story in ' Stolen Reflections' about?
Stolen Reflections is an anthology of poems celebrating love and celebrating the traditional poetry forms. I have experimented with various human emotions right from the thrill of success to the rancour of rejection, to the butterflies you get in your stomach when your crush passes you a smile, to the pain of losing someone you held dear. I have also experimented with around twenty different poetry forms including tanka, palindrome, Limerick, and cinquain which has been a challenging, yet rewarding experience.
5.Why did you name your book as 'Stolen Reflections'?
My idea behind the book was that reading it would be like looking into a mirror – a mirror that is broken into a thousand shards held together because they fit in with each other so snugly. The reflection you see there isn't your own, but a part of every life you have crossed paths with in your time on this earth. It's like a mosaic of reflections stolen from the world around you, and so every person who looks into it would see a different picture. Depending on their perspective, it would be a different experience for every reader.
6.Which is your favourite character from this book?
My favourite character from this book is YOU, dear reader. I want to know which part of yourself you found within the pages. And what part of yourself you left behind only to be rediscovered on a later read.
7.What do you think is more important- the words used or the feelings?
The feelings, definitely. How deeply an author is able to connect with their readers is what makes them keep coming back to read more.
8.If a favourite character of your favourite book comes alive in front of you, what would you say?
I would risk being clichéd here and tell this to Jon Snow (from the 'A Song of Ice and Fire' series by George R R Martin): "All men must die, Jon Snow. But first, we shall live." And how!
9.Is there a particular time of the day when you write your ideas? When?
Not really. Ideas come to me at most unexpected times. In fact, I remember jotting down the first four lines of a poem in the middle of writing an exam because they came to me just like that – in perfect meter with a beautiful rhyme when I was busy solving complex mechanics questions.
10.Just like you are an inspiration to others, who is/are your inspiration?
My inspiration is the Canadian author Steven Erikson. He is the co-creator of the Malazan universe and the author of the ten-book fantasy fiction series: Malazan Book of the Fallen. He writes so beautifully, I'd consider myself blessed if I could manage a mere fraction of his genius in my work.
11.What do you consider to be your biggest accomplishment?
Ever since I knew what dreams were, I had wanted to be a published writer. When I could finally start reading on my own, I equated happiness with an Enid Blyton in my hands.
Oh, how fervently I used to write!
Be it the English exercises at school or the essays in the yearly exams – I used to treat them all as excuses to let my creativity loose and come up with a story of my own.
"I would become an author when I grow up," I used to think.
And now, almost 20 years later, I can finally say that I have taken a step in that direction. This book release is a HUGE moment for me because it has been such a cherished childhood dream. Of course I wouldn't count it as my biggest achievement per se as I hope this book is the first in an oeuvre of many, but for now, I am sure this is going to be a major turning point in my career as a writer.
12.They say, "Nobody can judge you, as much as you yourself can." Where do you see yourself 10 years from now?
Writing the fifth book in my own fantasy fiction or sci-fi series while sipping coffee by the beach. I hear a small voice call out to me and see my beautiful daughter beckoning me to join her in the sea with my husband and her kid brother. I smile to myself, shut my laptop and run in my sandals and flowing beach dress to join my family. My husband tries to tickle me, I fight him off but end up head down in the salty water. Damn, how I hate the way he bullies me just because he is so much bigger and stronger than me. All of us laugh and splash water on each other, and the sun sets to pave the way for a sepia-tinted twilight.
Sounds surreal, doesn't it? I hope it can be true some day. I so badly want to be a full-time writer. And soon.
13.What would you do if you weren't into writing?
I am a civil engineer by training and right now I am wrapping up my masters degree. After that, well, I hope to do a Ph.D. It's a part-time Ph.D sponsored by NIT Silchar, during which I would also be taking classes of some subjects for B.Tech students.
14.How do you react to the reviews that you get about your writing from your readers?
I had always wanted to be a writer but had never taken up writing seriously until fellow students at my college started walking up to me to ask if I am 'that famous writer' on Quora. My readers have always been supportive and encouraging of my writing for which I am immensely grateful. There have been negative comments too, and unless I see any constructive criticism in them, I try to block out all the blind hate.
15.Which is your favourite fictional character?
There are several, but off the top of my head, it has to be the cheeky djinn Bartimaeus from the trilogy of the same name by Jonathan Stroud. He is sassy, sarcastic and with a brilliant sense of humour that leaves me splits every time I read through his scenes.
16.Who is your favourite author?
Steven Erikson. I can't get over how amazing his writing, character development and world-building are.
17.List any 3 books that you would recommend to our readers.
Since I read fiction, so I would limit my recommendations to that genre.
a.     One Hundred Years of Solitude – Gabriel García Márquez
b.    The Picture of Dorian Gray – Oscar Wilde
c.     The Boy in the Striped Pajamas – John Boyne
18.Is there one specific subject you would never write about? What would that be?
As of now, there is no specific subject as such. I try to keep an open mind and tell a story from different perspectives. Of course, there are some subjects that make me a little uncomfortable, but if push comes to shove, I would definitely want to step out of my comfort zone and tackle that piece of difficult prose.
19.Which is your favourite genre? Why?
When it comes to reading, I am a big fan of fantasy fiction. I love to dream up and visit entire new worlds with exotic food, animals and plants totally different from our own. I love to see magic being played out, and I am always thrilled whenever a dragon (or for that matter, any magical creature that can fly and breathe fire) appears on screen.
20.Which genre, according to you, is the most difficult to write?
I find myself struggling with comedy. Dealing with emotions and action comes somewhat easy to me, but when it comes to humour, I find myself stumped. It isn't a surprise, then, that I have huge respect for the likes of Douglas Adams and P G Wodehouse.
21.Are you working on your next? What is it about?
Yes, I am indeed. My next project would be a piece of historical fiction set in the Assam of 1600s. Did you know that the Mughals under Aurangzeb attacked the state as many as seventeen times, but never succeeded? Assam remained independent of the Mughal rule by the sheer brilliance of the battle tactics of its generals. Let's just suffice to say that my novel deals with the lives of a few that were involved directly with the fate of my state way back in the 1600s.
22.What is your message to other budding poets/writers?
If you want to be a writer, be a reader first. Read as much as you can, as often as you can. I strongly believe that without going through the works of great writers, one can't achieve a level similar to them.
Book Your Copy Today :-
Amazon :-  https://www.amazon.in/Stolen-Reflections-Some-Stories-Verse/dp/1643240862/