We had a conversation with Kanak Aggarwal
Here is how he answered our questions.

1.How does an idea for a story come to you?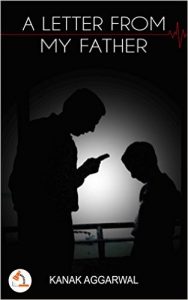 From everywhere. Look around you, what do we have around us? Nothing but a story in every aspect. All we need is the vision to observe them. Every second that we will spend after this moment of realization, it will be a complete book in itself.
2.At what age did you start writing?
I always had a knack for writing but professionally I have been writing since I was 18 years old.
3.Is this your first book?
My first book was "A Letter from My Father" published by Lampshade Publishing House. I have contributed two stories, "The Things I Never Said" and "Arrange Some Love for Me" for two anthologies: – "If I Had A Last Wish" and "Falling For Love Again" respectively, published by First Step Publishing House.
4.What is the story in 'A letter from my father', "If I had A last Wish" and "Falling for Love again" about?
The story of "A Letter from My Father" Is about Daksh, a simple 18-year-old Delhi guy who had only one problem in his life – his complicated relationship with his father. He has been passionate about music from his childhood but more than that he was passionate about making his dad feel proud of him. He saw both painful and happy times… He witnessed life and he witnessed death. His life was simple but still complicated. Out of all the complications was he able to set up a happy life for himself?
The story "The Things I never said" in "If I Had A Last Wish" is about how time can change and turn your life upside down. There are certain things in our life that we always want to share with the ones we love. This story is about a guy who is on the verge of dying and before he dies, there is something he wants his wife to know. What is that? You will have to find that out.
The story" Arrange Some Love For Me" in "Falling For Love Again" is about the path love takes to enter our life.  It takes a fraction of second to fall in love and let the feeling take control of you. It's magic creates a beautiful space for itself in our hearts so easily. But is there a guarantee that it will stay there forever? Or if it does leave, will it ever cross our path again? Maybe this uncertainty is what makes love such a precious asset in everyone's life. It can be ugly and how beautiful, how simple and how complex can love be at the same time.
5.Why did you name your book as 'A Letter From My Father'?
The letter in this book is its key ingredient.  It reveals all the secrets that the reader looks for from the begging of this book. Moreover, I love the feel of letters. Nobody uses them now, but every message delivered through them intensifies the emotions contained in them.
6.Which is your favorite character from this book?
My favorite character from this book is indeed rDaksh, the protagonist.
7.What do you think is more important- the words used or the feelings?
Both – the words used and the feeling have an equal say in this. When writing a book, both of them work side by side and complement each other. You might be having a sea of feelings to pour out, but if you don't have a good hold over the usage and the choice of your words, you can always end up drying that sea rather than bringing a tsunami out from it.
8.If a favorite character of your favorite book comes alive in front of you, what would you say?
I would say – "Well, done my boy. Somebody once told me "All heroes, don't wear a cape". I feel honored to finally meet one without it.
9.Is there a particular time of the day when you write your ideas? When?
Night. I write only at night. It's beautiful and calm. You can always take a break sometime and talk to the stars and the moon for a while, they themselves have thousands of ideas contained in them. So, the night is the time when only my pen works, everything else is on "Do Not Disturb".
10.Just like you are an inspiration to others, who is/are your inspiration?
Anyone, who has got something useful and new to teach to me from their own experiences is an inspiration for me. I mean c'mon, we can only imagine how they would have made their way out of a certain incident successfully, but they had actually done it. We are still waiting for our turn to experience it someday in our life.  As I said before, every person, everything, is a story in itself and it's hard to believe that there is any person in this world who has not been through a little tough time in his life. Everyone has. But if they are standing tall and smiling in front of me even after everything that they have been through, no matter what, they inspire me.
11.What do you consider to be your biggest accomplishment?
For me, everything that I have done till now is equally important for me in terms of accomplishment. Every step that I ever took has been equally contributing. If I wouldn't have been for those little steps that I took, I wouldn't have been what I am today.
12.They say, "Nobody can judge you, as much as you yourself can." Where do you see yourself 10 years from now?
Well, that's a pretty interesting question. I have always imagined myself riding a boat, my own boat while am dressed up in a classy pink shirt with my blue aviators living happily with my family somewhere far and yes how can I forget, a decent bank balance. That's a must. I will be doing anything to make this happen.
13.What would you do if you weren't into writing?
I would be a pianist. Without a doubt. This answer can never change.
14.How do you react to the reviews that you get about your writing from your readers?
As a reader myself, when I used to send a message or a review to my favorite writers, I never really got a reply. The reviews that I receive, they are the most precious gems of my treasure. Every writer will agree to that, I hope so. So yeah as much as they make me feel elated, I make sure I reply to all of them. It's important to keep your readers, else it can be bad for business. Just being sarcastic. If I they are happy, I surely will be.
15.Which is your favorite fictional character?
My Favorite fictional character, okay, you really bringing out the kid in me now. Some people might laugh at it, but I really can't help it, but my favorite fictional characters are GOKU and VEGETA. Those of you who watch "dragon ball" must have heard their name and those of you who haven't heard their names, let me tell these are the characters from a Japanese manga series.  I love them, especially VEGETA.
16.Who is your favorite author?
Stephen King.
17.List any 3 books that you would recommend to our readers.
End of Watch by Stephen King
The Cartel by Don Winslow
Originals by Adam Grant
18.Is there one specific subject you would never write about? What would that be?
Never is a big word, I must say. Well, for now, I might not be working with a romantic genre, but who knows what awaits for me in the future. Maybe someday this genre will become the only genre I will be working with, maybe not
19.Which is your favorite genre? Why?
Thriller. My favorite genre is the thriller. A good thriller will always leave you agape with your body drenched with goosebumps. The feeling of your heart racing insanely, trying to catch up with your breath that was just stolen away by the amazingly awesome thriller that you just completed, I love it. Give me a good thriller to read any day. No matter where I am or what mood I am in, I will be game for it.
20.Which genre, according to you, is the most difficult to write?
According to me, every genre is equally difficult to work with. Every genre requires that the writer builds up the plot in a fashion that never loses the grip on the reader's interest, attention, mind, and soul. If any of the genres drops its leash on any of these aspects, I believe then somewhere the reader then becomes bound to look for something other than the genre you worked on. So yeah, for me, every genre is equally difficult to work with.
21.Are you working on your next? What is it about?
Oh yes. Recently I have worked with TRC (The Rising Channels) for an anthology. It's an E-book and should be out very soon. Other than that I am myself working on a thriller. It's a story about a teenager who gets entangled in the webs of passion and revenge. To find out what happens with him we all will have to wait for the book to come out.
22.What is your message to other budding poets/writers?
Don't let words control, you are the one who controls them. We are humans, but our brain is a system that can be controlled if we know what buttons are to be pressed. Press the right buttons and you can make anything happen through anyone you want to. Play with words, make them a part of you. All you need to dwell is the understanding to finding the key to attaining the vision to look through all the smoke and every mirror standing in your way. Share that knowledge with everyone around you so that they can hold on to you with your words and cross that boundary of blurred walls along with you to look at life more clearly, more positively.
Buy from Amazon India:-