| | |
| --- | --- |
| Publisher | Bloomsbury India |
| Language | English |
| Pages | 252 |
| Year Published | 2017 |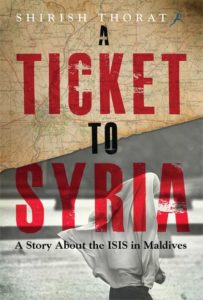 A ticket to Syria is indeed a great read for those who love thrilling mysteries and fast pace when it comes to storytelling. From the very first page, the book keeps you on the edge and you are eager to turn the page as your mind is simply unstoppable until the story comes to an end.
The book begins with Sameer Ibraheem who comes to know that his whole family has gone to Syria to take part in jihad. He gets concerned and wants to know of his family whereabouts. Ahmed Idris helps him to get to his family and talks to all the ideal people who could assist them in the hostilities that they face. His sister Zahi is married to Ibraheem's brother and the moment he gets a message from her, he wants to get her out of the mess at any cost.
The most interesting character of the book is an unnamed person "Contact" who plays a crucial role in their rescue operation.
The characters were interesting and intriguing but the one offsetting thing about the book was that in the first few chapters you don't understand a lot that is happening. You know the characters but the parallel description about the functioning of ISIS and excessive information leaves you tossing and turning and somehow disconnects you from the story.
Overall the book is definitely a good read and surely a page turner.
Review By Heena Vijayvergiya